Every manufacturer has to deal with it: outages and wait times that cause loss of availability. Performance loss due to running at reduced speed and short stops. How can you use vertical integration to improve the effectiveness of your machine or production line, or OEE performance, with minimal effort?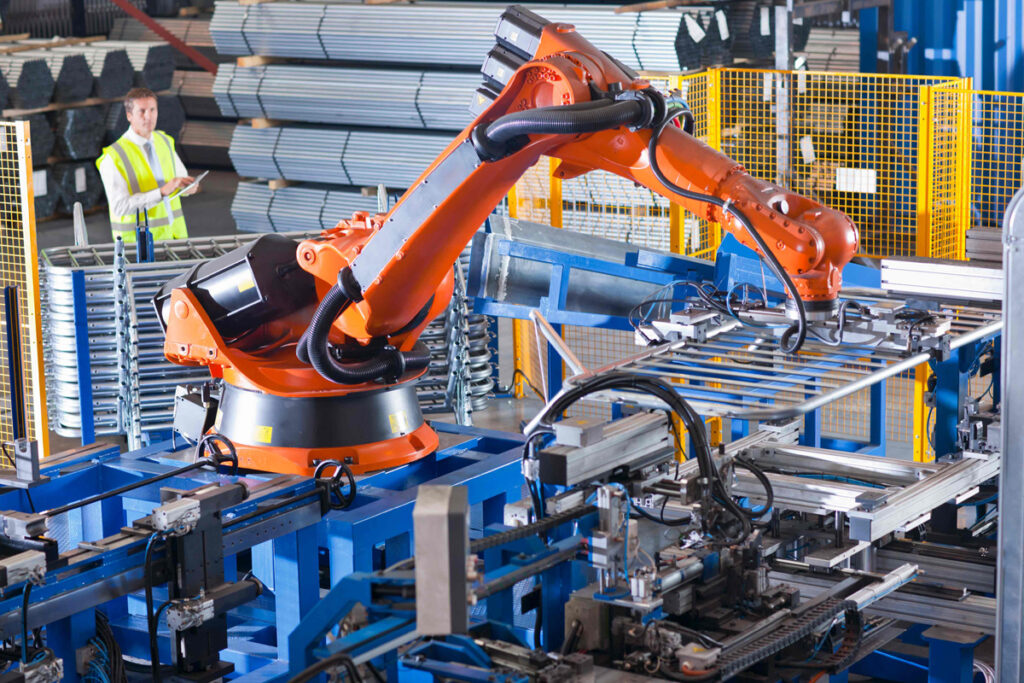 At Quinso, we help manufacturing companies develop as Intelligent Manufacturers. We do this with new business models, smart technologies, by learning from nature, but also by smartly deploying digital innovations. As with Oerlikon Eldim. Recently, the turbine component manufacturer started working with an SAP MII module, which automatically initiates actions in the event of a malfunction so that the failure can be fixed quickly and effectively. In this blog, Wouter Vervoort and Henk Janssen talk about how Oerlikon became an Intelligent Manufacturer using SAP MII.
The fault module
An automated production cell consists of a combination of machine tools and a robot. These robotized production cells provide a lot of log data, including machine failures. In the past, a production worker would get a malfunction on the controller or see it on the machine itself. Often attempts were made to remedy the failure based on one's own experience, with mostly unsecured knowledge and skills embedded in the employee's mind. Then the notification was still created in SAP. There was a lot of time between assessing the failure and the final report. Especially in the evening and on weekends, this caused a lot of lost time and problems.
Quinso developed a failure app that easily links automation log data to an MII failure module. With this module, every fault is detected and classified.
Malfunction and then what?
What happens to the report? MII monitors the log file in real time. In case of a report, the system, based on a fault category, automatically determines to whom the fault belongs:
Failure category A: The operator
In this category, the operator can, may and must fix the failure himself. Common malfunctions include instructions on how to fix them. If there is no instruction yet, it can easily be created to still secure the solution. Similarly, inaccuracies from existing instructions can be corrected. If the operator cannot correct the fault, then by scanning his batch it can be reported as a Category B fault.
Failure category B: The technical service
Category B failures are often more complex in nature or involve large(er) risks. The report goes directly to the technical department. An order is automatically created through ERP. The technical service employee knows exactly what to do and can, for example, watch remotely as the malfunction is resolved. Again, secured knowledge is used in the form of instructions (pdf text or videos). Instructions can also be created or modified that safeguard specific knowledge. For the elements, such as the robot, the automation analysis App created by the supplier can also be used directly within the MII module.
Failure category C: The supplier (external party)
Reporting this category of failure to the supplier is the responsibility of the technical service (TD) employee. The TD assesses the severity and priority, when and how to notify the supplier. In doing so, they have access to the substantiation of the reports from the failure module. This upfront information saves a lot of time in supplier analysis.
Data
The integration of MII provides tremendous time savings. But not only that. Thanks to vertical integration of the machine, faults are tracked and recorded. As a result, we know exactly which failure causes how much machine downtime and repair costs are transparent. All data, reports and analysis are captured at lightning speed, in one clear dashboard.
Henk Janssen, Oerlikon Eldim: "On this basis, we can very quickly decide which malfunctions can be solved preventively and for which malfunctions a work instruction will suffice. It is also clear which malfunctions the operator can deal with himself. If there is a malfunction that is beyond the capabilities or authority of the operator, the app has already made the notification to the technical service. And there is no unnecessary delay in the notification process. We have improved ten leaps and bounds with this process!"
The methodology
For the implementation, Quinso worked according to scrum: short, effective sprints. Wouter: "By taking on the project together from day 1, training the key users is no longer necessary. The user interface is very user-friendly. Even better, they have their own influence on what it will look like and can start using it themselves in no time."
Smarter, smarter, smartest
Are you curious about how vertical integration improves your OEE performance? Do you want to develop into an Intelligent Manufacturer who smartly anticipates industry developments to grow his business?
Then watch back the webinar "3 practical examples for more profit from your production process. In half an hour, Wouter and Jurgen cover the top three areas of improvement they encounter on a daily basis. They show in what ways MII supports you to deal with this:
Preventing or quickly resolving malfunctions
Integrating all, production-related, software solutions
Making processes flow smoothly into one another
The expertise built up by Quinso means we are uniquely capable of helping you, as we did at Oerlikon Eldim, Supertape and Hunter Douglas. Together with them, we developed intelligent logistics concepts, using SAP MII. The result? Production capacity increased and as a result they now set the industry standard!
About Henk Janssen
Henk Janssen is taking charge of Business Improvement at Oerlikon. He focuses on automation and digitization, PLM Teamcenter and NX CAD/CAM application.
About Wouter Vervoort
As a Senior Business SAP consultant, Wouter Vervoort has a strong focus on business improvement. He is strong in coordinating (change) processes, taking into account planning, details, efficiency, cost control and providing a structural solution.